So, when we last left the We Wanna Meet recap, I was a freak. :-) (And, as an aside, after reading several people's posts about this weekend, I realized how much we notice in other people the things we are insecure about in ourselves. I
do not
have perfect hair, no matter what Holymama says! But I sure noticed how skinny Lauren was because that's what I'm insecure about. And how cute Shannon's glasses were because I don't like mine. And how funny so many of them are because that's not usually my gift. Hmmm. I could go on, but what you really want to know is what we did on Saturday, so here you go.)
Saturday morning we slept in. Ha.Ha.Ha. Caleb was with me, remember? Shannon and Chili slept until 10:45 because
their kids were at home!
Caleb was up most of the night coughing or crying or just being awake. So, even though we got out of bed at 8:45, but we didn't sleep in, TRUST ME.
After listening at the doors of my fellow hotel sleepers and deciding no one else was awake (wait, I AM a freak!), we headed to McDonalds for breakfast. I would find out later that I
should have
knocked on the door and asked Faith if she wanted anything because, apparently, she gets upset if
someone
goes without her and doesn't let her know. :-) Next time, Faith, I'll get you whatever you want!
Shannon and me
We headed to the Ft. Worth Botanic Garden for lunch where Shannon dared Lauren to "steal" a piece of wedding cake from the reception in the next room. You've heard this story, right? Lauren got chewed out by the mother of the bride. I think the lady's exact words were, "HOW RUDE!!!!!" And Shannon was just worried Lauren would put the cake in the jacket she'd borrowed from her. You're one brave lady, Lauren! Those Texas mothers of the bride can be quite fiesty...I should have warned you.
Shalee
waiting

for our food!
After Shannon and GiBee went to ask the waitress to cancel our dessert order because we'd been at the restaurant for TWO HOURS already (which didn't go over well, by the way), Shannon told me it was my turn to offend someone. :-)
GiBee and Faith
After lunch, Faith, Lauren and Chloe, GiBee and Hunter, Sandy, and I headed to The Stockyards. This out-of-state crowd wanted a "real" Texas experience. Well, I think they got it. Little did we know there would be a real live cowboy extravaganza going on. We even got to talk to a REAL life cowboy in person. He graciously offered to take our group photo without our even having to ask. What a gentleman! He works a cattle ranch not too far from where I live and has an original belt buckle from the Houston Live Stock Show and Rodeo the first year it was in the Astrodome. He was
very
proud to show it to us. Lauren asked if she could have it for a souvenir, but he wasn't
that
gracious. Good try, though, Lauren.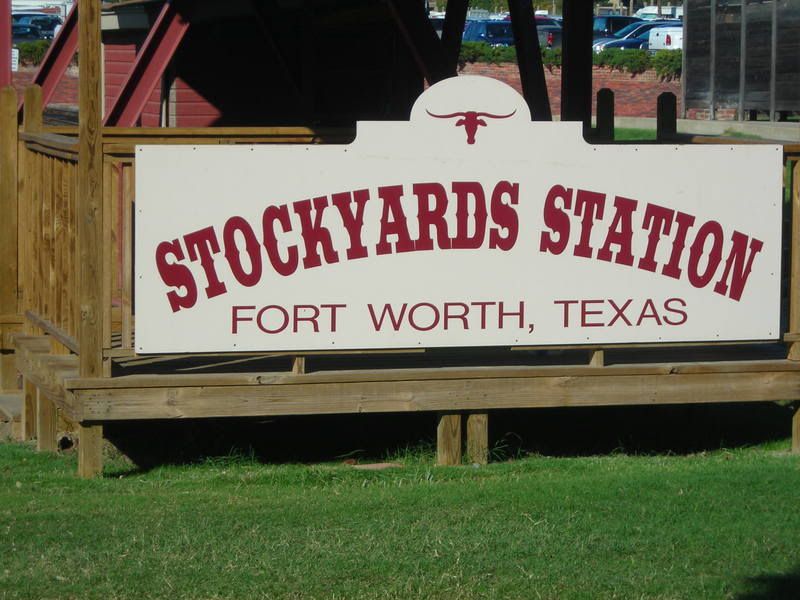 We made it to The Stockyards just in time to see the longhorns be led down the street. It was pretty neat, even though there were only about 7 of them and they looked like they were being led to their death (not because they were malnourished or anything, they just walked that slow).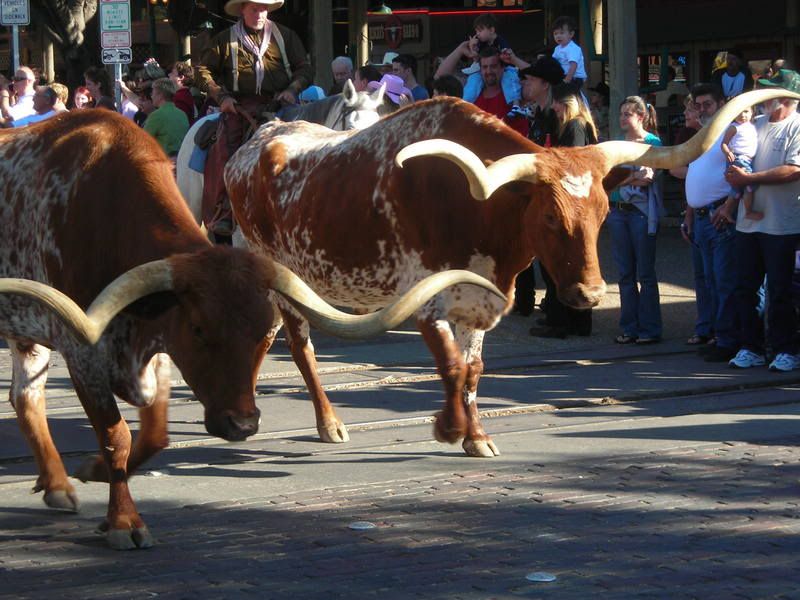 the old, sad longhorns
After the "running of the bulls," we went in search of some silver jewelry. I snapped this cute photo of Faith in what else but a
pink
cowgirl hat! Isn't she adorable? I told her she looks much younger in person. Really. I don't have a picture of Chloe's teal cowgirl hat, but trust me, she was super cute!
While in The Stockyards, we saw some women dressed like old timey "women of the night." Not sure what their purpose was, but everyone sure liked taking pictures of them. Lauren said she was going to photoshop our faces in to that picture, so if that starts floating around Blogland, don't believe it for a second. Because unlike Shalee, Shannon, and Chili, we DID NOT dress up in "formal" attire during our afternoon out. Promise.
GiBee's Hunter and my Caleb
Caleb trying to share his pacifier with Hunter
We headed back to the hotel to freshen up and change before heading to Antique Mommy's for a taco dinner. It was wonderful! We got to meet Sarah (
In the Midst of It
), Rachel Anne (
Home Sanctuary
), Katherine (
Raising Five
), and Megan (
Life in a Nutshell
). It was a joy to sit around and chat with these ladies. I wish we'd have had more time together!
Sunday morning hubby, Caleb, and I checked out of the hotel at 7:45am to go to church with
JettyBetty
and her sweet husband. It was my first time meeting her, and I was so excited. She is as sweet and genuine in person as she is on her blog. We ate brunch at Crackel Barrel and Caleb was extremely tired and fussy by the time our food came. JB's sweet PH (Perma Honee as she calls him) finished his meal first and walked around the gift shop with Caleb for the rest of the meal so we could chat. What a blessing that was to us! Thanks, JettyBetty and PH for such a lovely time!
me, Caleb, and JettyBetty
Well, that just about wraps up We Wanna Meet. It was a blast! I wish I could have had one-on-one time with every single lady. I do much better one-on-one than in big groups, but it was a blessing to me just to get to meet these sweet ladies in person.