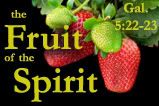 I'm humbled that someone nominated this blog to receive The Fruit of the Spirit graphic.
Trish at
An Ordinary Life Artist
says this about the graphic: "There are many blogger and non-bloggers alike who have agreed to partner with me in recognizing and honoring those whose writings, postings and lives exemplify how God works in and through His people. When we recognize Jesus Christ as our Lord and Savior, the Holy Spirit resides within us. It is the Holy Spirit who produces fruit in our lives ~ but He has also given us the honor and the duty of recognizing the fruit in other believers."
This girl (and this blog) are definitely a work in progress...God is refining me every single day. I'm honored that you choose to come here and see what He's doing in our lives.
I'm so blessed.